Brita users around the world who are aware of germs or chemicals in tap water should follow the Brita longlast filter instructions.
But rarely are some of them unable to get their desired results. Due to this, they think that both their health and money are getting spoiled.
There could be some reasons for these unexpected results like clogging, extreme usage, not following instructions, wrong flushing, etc.
In this article, we explained and classified the instructions about the Brita filter, which is very useful for longlast or standard water filters.
You can get the best and expected result for a long time by following these instructions. So let's go.
Brita Longlast Filter Instructions
Before knowing the instructions about the Brita filters, you should know what can longlast filter reduced from your tap water?
And how does the Brita filter indicator work?
The filter can reduce chlorine taste and odor and increase the quality same as bottled water.
Brita longlast filters remove Lead, Mercury, Cadmium, and Benzene contaminant, Asbestos, Particulates, and provide great-tasting water.
Instructions for the first time using Brita alkaline filter pitcher
1. Open the package and exit the pitcher.
After purchasing, open the box and take a pitcher out. Then, tear off the plastic cover carefully wrapped around the pitcher.
Take out the Brita manual and filter cartridge from the pitcher, and keep them apart.
2. Wash, clean, and dry the pitcher.
After unboxing, take all parts of the pitcher to the sink for the cleaning process.
The smart pitcher is made with BPA-free plastic, uses gentle dish detergent with warm water, and washes all parts except the filter.
Then, dry these parts with a clean towel and keep them on the cleaned surface for the next step.
3. Rinse the filter
Take out the standard or longlast Brita filter from its packaging, and then rinse it under cold tap water for 15 seconds.
It could be the new one you purchased or comes with your new pitcher.
After that, your water filter is ready to be used.
---
If you want to know the best contaminant remover pitcher perfect for you then, please check our Top 10 Best Water Filter Pitcher list.
Selected according to filtering capacity from various categories.
---
4. Installing the filter
Take the dry pitcher to get the lid off carefully and make sure it is neat and clean.
Hold water filter from the top and line up with groove and notch at the bottom in the reservoir.
Insert down Brita longlast filter carefully in filter place and make sure that o ring is a perfect fit.
5. Water filling in the reservoir.
The filter is in its place, and the lid is off. You can start filling tap water to fill the reservoir.
It will start producing clean water and store it at the bottom of the pitcher.
Now, you can get filtered clean, and pure drinking water from your pitcher.
In some pitchers, you fill the reservoir more than once to fill the tank.
Brita Longlast water filter instructions for daily use
1. Remove the lid
When you have used your filtered water, bring the pitcher near the water refilling point or tap.
Take the lid off and keep it aside. Bring the pitcher under the tap, and start filling the water with normal flow.
2. Reservoir filling
The filling reservoir will take some time to pass water at the bottom of the pitcher.
After filtering half of the reservoir's water, refill it completely.
It will help you to fill the pitcher with filtered water for your more water requirement.
3. Put the lid back and keep it in the refrigerator
Once your pitcher is full of filtered water, then set the lid back in its place.
Keep the pitcher in the refrigerator to get cool water whenever you want.
You need to drink all filtered water within 1-2 days to ensure daily water needs for your better health.
4. Add tap water to top up the reservoir every time
Don't wait until your pitcher is empty. You fill the reservoir whenever you use it.
When you take a glass of filtered water to drink. Then you pour the reservoir too from the cold tap water.
By this, you will have your Brita water pitcher regularly full of filtered water.
If there is water in the reservoir and you need filtered water, then you need to pay more attention to the lid.
The reservoir water may drop out if the lid doesn't set.
Installation instructions for Brita Standard, Longlast water filter
1. Take off the lid and take out the filter
When you get the time to change the filter, you need to take off the lid and keep it aside.
Then, pull out the filter slowly from the reservoir by holding the top of the old filter.
Make sure the reservoir is clean before installing the new filter.
2. Flush the new filter
Take out a new filter from the packaging and flush your filter with cold water for 15 seconds.
Keep running cold water from its top to bottom by keeping it under the tap.
3. Installing a new filter
Hold the new filter and install it in the reservoir by lining up the pitcher notch with the filter's groove.
Then, push down firmly to set the filter in its place, making sure the seal is tight.
4. Water filling
After the complete installation of the new Brita effective filter, fill the reservoir with cool tap water.
You need to discard your first three filtered water containers or can use them to water plants.
There can be carbon dust at the bottom of the pitcher in the first few fillings.
Don't worry; it is normal and harmless.
5. Maintain optimal performance
If you want to get healthy drinking water from your Brita longlast filter, then you need to follow the necessary instructions.
When you use blue colored Longlast Brita filter, it needs to change after every 6 months or about 120 gallons of filtered water.
And standard 40-gallon filters are white-colored, you need to change them after every 2 months of filtered water.
Brita Longlast Filter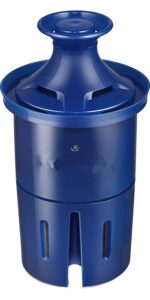 Brita Standard Filter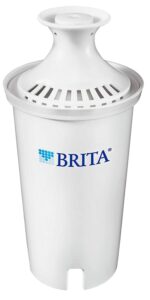 Brita longlast, standard filter Care & Maintenance Instructions
1. How often should I change my filter?
That is most important to change the filter at the proper time to remove the maximum contaminant according to the expectation.
We have Brita longlast water filter that has long-lasting life but, it may be less if you don't follow the instructions.
You may also need to change sooner while dealing with hard water.
The filter changing time depends on the type of filter; you can get it clearly by listing below.
A. Pitcher and dispenser filters
Brita Standard (White) Filter: It can remove Lead, Mercury, Benzene, Chlorine, Asbestos, Particulates, and the 40-gallon filters need to change after 2 months.
Brita Longlast (Blue) Filter: Replace after 120 gallons or about 6 months, it's the best option than bottled water.
Brita Stream (Gray) Filter: Change after every 40 gallons or about 2 months.
B. Bottles and Faucet Filtration Systems
Brita Water Bottle: Can replace the filter every 40 gallons or about 2 months.
Brita Faucet Filtration Model OPFF-100: Replace it after 94 gallons or about 4 months.
Brita Faucet Filtration Model SAFF-100: Replace it after 100 gallons or about 4 months.
Brita Faucet Filtration Model FF-100: Replace it after 100 gallons or about 4 months.
Can get money-saving offers and exclusive bonuses after signing up for the Brita filter change reminders program.
Estimate filter change time based on 11 glasses per day for an average family.
The water bottle filter approximate time is calculated as 64 ounces per day.
2. Which filter can I use with my Brita pitcher?
All Brita small pitchers and Dispensers are compatible with both Brita longlast and standard filters.
You can use any one of them according to your need except for the Brita Stream filter.
The Stream filters are only compatible with Stream pitchers.
3. What is the shelf life of a Brita filter?
The unused and sealed filter's self-life is indefinite. Brita advises keeping the filter sealed and stored in a cool, dry place until you use it.
Your new filter can be older for more than one year, so Brita recommends 15 minutes of soaking in cool water before first use.
Pre-soaking is an important step that can affect performance because the older filter can dry out.
4. How do you clean your Brita pitcher?
Brita pitchers and dispensers are washable except for longlast and other water filters but, you have to follow the instructions.
Remove the filter from the pitcher or dispenser before the cleaning and keep it aside.
You can use a mild detergent to clean the lid and reservoir periodically, and wash well with warm water should avoid abrasive cleaners.
After cleaning, keep the pitcher upside down at room temperature to air dry.
Assemble your pitcher with reinstalling reservoir and lid, and make sure about perfect fitting.
During assembling, the vent hole in the reservoir should be facing the back of your pitcher.
5. How long can you store clean water in your Brita pitcher?
Keep your Brita pitcher in a cool and low light place, avoid direct sunlight.
Direct sunlight can be a cause of growing algae in the pitcher.
You can put your smart pitcher in the refrigerator and get the cool water whenever you want.
The refrigerator is also very helpful when you are unavailable for more than a couple of days.
Brita Longlast filter warranties instructions
1. What can I do if my Brita pitcher cracks or breaks?
Brita strongly builds their products and keeps durability, but they may crack, break or fail during long-term uses.
The company always works to take care of customers' needs and give a better service experience.
Brita provides a 30-day complete 100% money-back guarantee and a one-year warranty against any damaged or break.
For a query about warranty and guarantee, you can visit the Brita help page and call for support.
2. Where can I download a Pitcher Product Manual?
Instructions about clogging issue in Brita Longlast, Standard filter
Many users may face clogging issues with their Brita filters.
So, we explained some necessary instructions by which your Brita longlast filter may work well without clogging issues and early replacement.
1. Install a whole house filtration system
Your tap water may have a major deposit level that appears cloudy pollutants on the bottom of the dirty water.
It is a simple sign that your water has a large carbon or dust deposit, and it can clog your filter cartridge.
So, we advise installing an extra water filtration system to avoid this.
2. Removing air from the filter
During the installation of the Brita longlast filters, you should make sure that there is no air bubble in the filter.
Your Brita water filter can filtration slow due to this.
To remove the air bubble, keep the filter under the water and tap lightly at the bottom to loosen air bubbles.
3. Replace the filter on time
Longlast use of Brita filter can clog or slow filtering capacity so, try to unclog the filter before replacing it.
The pollutant and impurities can accumulate in your filter for a long time use.
So, you change the old filter within the appropriate time to get pure and healthy water having great taste.
4. Correct filter installation and flushing
Incorrect filter installation and flushing cannot give the correct result. Mostly, it occurs during the filter changing.
It directly affects the filter's capacity, so you should read the instruction given above carefully and install them correctly.
Have you still have difficulty changing the new filter, ask a Brita representative for the correct installation and flushing.
5. Don't filter anything except water
If you want to filter other things like cold drinks, coffee, soda, and lemon water, by your Brita water filter, don't do this.
It would clog your filter permanently so, don't try this type of mistake.
The water filter pitcher is designed to purify water and should use for water only.
6. Keep the focus on indicator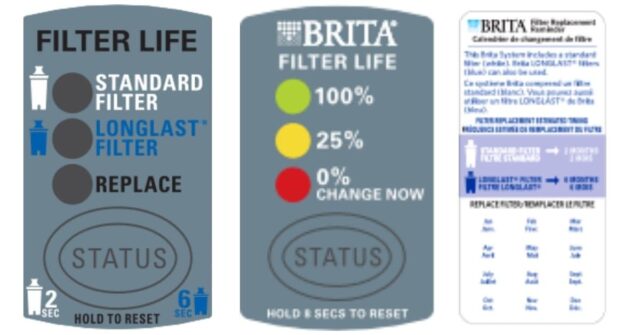 Your Brita water pitcher has a filter change indicator which helps to know the replacement time.
Light indicates:-
Greenlight – intimates that the water filter is working well.
Red light – indicates the changing time of the water filter.
If the Brita filter's replacement time runs out, then it gets slowly clogged.
Keep the focus on the indicator to maintain your water quality.
Brita Recycling Instructions
1. How can I recycle my Brita products?
Brita is also doing a great job on environmental waste recycling with their partner TerraCycle.
TerraCycle runs a free recycling program with Brita for Bottles, Faucet Systems, Pitchers, Dispensers, Filters, and filter packaging.
To give your contribution to recycling Brita products, go to the Brita recycling page and sign up.
You will get a free shipping label after filling in your information.
Keep your all scrap product dry before packing and mailing. Brita will collect the package from your location.
It is important to keep your goods in a garbage liner or trash bag inside the packing box.
If you have any queries about the recycling process or shipping labels, you may freely contact Brita's representative.
2. What can I send in through this program?
You can mail the following waste to Brita for recycling.
Brita Faucet Water Filtration Systems
Brita Filter packaging
A Brita Dispensers
Brita Pitchers
Brita Bottles
All types of Brita Filters
For any other support and query about the recycling program, you can contact Brita customer service.
3. Can I only send Brita branded packaging?
This recycling program accepts only Brita products and packaging.
So, make sure there should not be any other waste of different brands.
4. What should my shipment have weighed before mailing it?
Brita prefers a minimum of 5 pounds (approximate 17 water filters) of waste to collect and mail.
That can be a mix of different kinds of Brita products.
Although a water filter pitcher can receive a smaller weight consignment lower than 5 pounds, Brita encourages you to hold your mail until you collect at least 5 pounds of waste.
Due to this, Brita tries to reduce the environmental impact by transportation from the recycling program.
5. Do I need to clean Brita waste before sending it to recycle?
There is no need to wash your Brita products or waste before sending them to recycle.
But, keep in mind that UPS doesn't allow dripping packages for shipping, so all products should be dry before shipping.
Conclusion
Everyone always expects our Brita products to work well but, many reasons affect filter performance.
To get the perfect result and great tasting water regularly from your Brita longlast filter, you may pay attention to the work procedure and follow the instructions.
As you have seen above, we have provided detailed information about Brita longlast filter instructions to clear your doubts.
I hope you got some good information from this article and if you want to improve something.
So please let me know…………..