A point of entry water filter is an essential piece of equipment for any serious prepper.
A good filter will protect your family from harmful contaminants in the water supply, ensuring that you have access to clean drinking water in a disaster.
There are many different filters on the market, so it is essential to do your research before purchasing.
This blog post will explore the different types of point of entry water filters and help you decide which one is right for you.
Stay safe and prepared!
What is the Point of Entry Water Filter System?
The Point of Entry Water Filter is a system that is installed at the single water connection coming into your home or business.
This type of system all of the water pressure coming into your property, providing safe drinking and cooking water.
There are many different types of point of entry water filter systems available on the market, each with its own unique features and benefits.
Choosing the right system for your needs is essential to ensure access to clean and safe water in a disaster.
What is the Best Time to Use a POE Water Filter?  
There are many reasons you may feel that it's essential to utilize a water softener rather than a point of a use filter system.
A POE home water filtration is an excellent addition to any disaster preparedness plan.
While many systems are perfect for use with specific types of disasters.
Such as, in hurricanes or floods, a POE filter can be used when the water supply may be contaminated.
The best time to use a POE tap water filter is before a disaster strikes.
By having a filter in place before an emergency, you can ensure that your family will have access to clean drinking water.
If a disaster does occur, it is essential to use the filter as soon as possible to remove any contaminants from the water supply.
Best POE Water Filters
1.     Whirlpool WHESFC Outdoor Water Softener
General Specifications
Grains Capacity: 31, 000
Dimensions: 19 x 18 x 48 inches
Weight: 112 Pounds
Flow rate: 7.6 GPM
Items Model: WHESFC
Iron Removal: 3 PPM
Color: Gray
Whirlpool Pro Series is the ideal choice for your home, offering your family and you high-quality water.
It can take out minerals and other water contaminants that could pose dangers.
The softener is an NSF Certified unit that eliminates pollutants such as Calcium, Magnesium, Chlorine, and iron reduction.
It can soften the water and improve your home's water appliances lifespan like the water heater and dishwasher.
Whirlpool WHESFC Pro has a capacity of more than the average hardness removal rate, 120 grains per gallon. 
With 31,000 grains and a 3 ppm capacity for iron removal, this is an excellent purchase for indoor and outdoor usage.
2. ISpring RCS5T 500 GPD Whole House RO System
General Specifications
Dimensions: 14 x 11 x 18 inches
Weight: 32.6 pounds
Item Model: RCS5T
Color: White
Warranty: 30 days manufacturing guarantee
As with many other iSpring RO water treatment systems, The RCS5T is an outstanding efficiency in providing pure and safe drinking water for your home, restaurant, or small-scale business.
It is perfect for removing chlorine and other pollutants to get quality water, the same as bottled water.
It can operate at the maximal capacity of up to 500 gallons a day and effectively treat contaminated waters.
The output can vary depending on temperature, as well as other variables.
The double-flow rate Reverse Osmosis Membrane assures constant production and a remarkable ratio of discharge to manufacturing.
---
What are the Advantages of Point of  Entry Home Water Filter Systems?
Lifespan
POE filters are more costly than tap water filters; however, they last longer, generally five and seven years.
Reduces Problems with Aesthetics
A variety of point-of-use water treatment systems will remove or lessen the effects of chlorine (water softener), sulfur, and iron. 
These ions are the most frequent culprits in visual damage in your home.
For instance, sulfur and chlorine can alter the taste and smell of the water you drink, and iron may leave stains challenging to clean for your home appliances.
A whole house filter will remove the contaminants that cause your cosmetic issues, improving your hard water quality and reducing regular cleaning requirements.
They're Convenient
As previously mentioned, a point of entry filter can make it possible to access clean water pressure with the same quality across your entire house. 
You don't require a separate clean water filter for each water supply.
With this type of filter, you'll be able to drink the same filtered water flow rate is high in both your kitchen and bathroom.
So installing one whole house water filtration system is more practical.
Extends the Life of Appliances
Suppose you set up the point of entry system right at the principal water source. In that case, the entire house will benefit from higher quality water as soon as it arrives at your home.
Items that use water testing regularly, like the dishwasher, washing machine, water heater, and shower, will last longer.
If they're running clean, filtering water that isn't likely to harm or corrode their surfaces.
The Complexity is an Additional Benefit.
Whole-house water filtration systems are typically multi-stage filters.
That use various materials for filtering and treatment methods to combat harmful contaminants in your healthy water. 
Therefore, these filters' high level of complexity has advantages as they can eliminate an extensive range of waterborne contaminants that other filters might not remove.
Improves the Taste of Drinking Water
Although it's an added benefit, a point of entry filter could offer whole home water treatment.
It's probably essential that your drinking water quality from your faucet is significantly better.
This water filtering system can eliminate any harmful contaminants, making alkaline water similar to bottled water.
The Use of These is Economic
A POE water filtering system in your home can help save money, which is an enormous benefit in water treatment.
If you decide to install a whole house water filter, you'll need to buy one system since you don't have to set up separate filters for each water outlet.
There is less installation work to handle more money on regular maintenance.
So, POE water purification is an excellent choice for those who want to cut down costs.
Reduces Skin and Hair Problems
An outdoor water softener for the whole home is a common POE for water treatment systems. It is particularly effective in removing minerals such as magnesium and calcium.
These minerals are associated with dryness and irritation of the skin, the scalp becoming itchy and irritated, and hair loss.
When you put in a point of entry water softener, you will notice a significant improvement in your skin and hair health, mainly if this was previously a problem.
High Capacity
The most common whole-home filter systems can provide gallons and gallons of pure, clean, and non-suspended water supply. There's no limit to the amount they can create.
What are the Disadvantages of the Point of Entry Water Filtration System?
It Isn't Easy to Install
You must cut the water line at the entry point and connect it to the system.
If you have no skill, you might not be confident installing the system.
It could mean that you need to hire an electrician or plumber to complete the task for you.
Some Systems Require Frequent Maintenance
Some water filtration systems require more care than others.
Salt-based softening systems need regular salt top-ups and full media top-ups every six years.
Suppose you're searching for an all-in-one home water treatment system that is low maintenance. In that case, your best alternatives are probably whole-home filters or conditioners.
They have media beds or resin because you'll usually have to replace them each 8-10 years.
Could Cost a Lot
Suppose you're searching for a POE system to lower or eliminate a specific water contaminant such as chlorine smell, iron, hardness, unpleasant taste, and lead.
In that case, you might be able to spend a bit less, but you're in the range of $400-$500 for a sound system.
What do These Filters Remove?
Whole-house water systems accessed through entry points can target a range of contaminants and impurities.
Based on the cartridges and the filters they use. They can be more effective and complicated than other point-of-use filters.
So, for the significant part, top-quality point of entry water filters take away:
1. Sediments like sand, rust, or other suspended and dissolved particles. 
A sediment filter can remove, which typically serves as the primary cartridge filter in the multi-stage filter.
2. Chemical contaminants like chlorine, by-products, VOCs, pesticides, herbicides, etc. An activated carbon filter removes them.
These could comprise carbon block filters, activated carbon filtration with granular particles, or both.
3. Ceramic or nano filters remove Cysts, Giardia, cryptosporidium, and other bacteria.
4. Other chemicals such as scale buildup, fluoride, heavy metals, dissolved solids, and the smell and unpleasant taste are removed with KDF and other specially designed filters.
As you can observe, a POE filter can target many pollutants. 
First, you need to test your water to determine which filters you should have as a POE water treatment system.
Which Location is POE Treatment Equipment Installed?  
It is suggested that the POE equipment be installed near the main water line entering the house. 
That lowers installation costs and provides high security to the equipment. In the majority of cases, just one standard electrical outlet is needed.
Common locations for installation include areas in utility rooms and crawl spaces (subject to an acceptable height) in basements.
The main drawback of these areas is access to maintenance. 
Specific POE applications have been set up outdoors, either inside the form of a "box" attached to the house's exterior or even on the curb.
The box has to be heated, insulated, and powered. Outdoor installations, providing easier access to maintenance, are considerably more costly to set up.
The Point of Use Vs. Point of Entry what is the Best Water Filter?
Contaminated water is one of the biggest threats to your health and safety during a disaster.
Good drinking water filters are essential equipment for any serious prepper.
But what kind of home water filtration do you need?
There are two primary filters: point of use (POU) filters and point of entry (POE) filters.
POU filters are designed to filter water when you use it, such as in your kitchen sink or showerhead.
POE filters are designed to filter water when it enters your home, such as your main water line.
So, which is the best type of filtered water system for you? The answer depends on your specific needs and situation.
If you only need to filter a small amount of water for drinking or cooking, then a POU filter may be all you need.
But if you want to treat all the hard water entering your home, then a POE is a better option.
No matter which type of filtration system you choose, make sure it is rated to remove the specific contaminants present in your water supply.
This will ensure that you and your family have access to clean, safe water during a disaster.
How Many Filtration Stages Do Point-of-Entry Whole House Systems be Able to Integrate?
There's no set rule regarding the number of stages for treatment to be included in the entry water treatment system. 
It's common to see these filters using various cartridges or filtering techniques.
Due to the complex nature of these filters, they're more efficient in eliminating contaminants.
The majority of POE softener filters comprise many filter cartridges, which means that treatment is performed in several phases.
However, consider how many phases of filtration are necessary for the POE home system to eliminate harmful contaminants and pathogens from your water?
Four or More Stages
If your whole house filter is a reverse-osmosis system, it must include four or more stages. 
The four stages are a carbon block pre-filter, one sediment pre-filter, one reverse osmosis membrane, and a carbon block post-filters;
Three Stages
If the entire house filter includes UV filters, it must consist of three stages.
Your water purification requires one UV filter unit, a sediment filter, and one carbon block filter.
Two Stages
Suppose the water purifier is not UV-based and not dependent on a reverse osmosis system. In that case, the recommended number of stages of treatment must be a minimum of two.
A filter cartridge will remove sediments, chlorine taste, VOCs, pesticides, and herbicides (e.g., a sediment + carbon filter).
The second one deals with heavy metals, bacteria, other metals, and chemicals (e.g., pdf filters, active ceramics, etc.).
These are only guidelines for the number of stages for water treatment.
The contaminant elimination speed and the removing capacity of each cartridge will decide the number of stages needed.
In this way, it is essential to consider the number of filter cartridges used for water treatment should not be the only thing to purchasing a point of entry system.
---
Outdoor Water Softener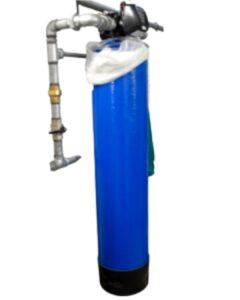 Whole House RO System
---
What is the Cost of a Point of Entry Water Filtration System?
Numerous aspects affect POE costs, such as
The contamination in your drinking water,
The risk that your public water system poses,
How much work the consultant or supplier is doing to assist you
The location of your area, etc.
Suppose no other treatment goes beyond the basic cartridge filtration process, and an ultraviolet sterilizer (and the accessories) is required.
In that case, an excellent initial budget figure is $3,000 for your whole house water filtration system.
The cost can differ depending on the treatment needed or if an exterior installation or a lockable enclosure is wanted.
Most POE public water systems are assembled into a manufactured "panel" in factories or warehouses instead of being built on the installation site to improve efficiency and reduce costs.
It does not just improve the efficiency of assembly. It lowers cost and enhances uniformity across the community, enhancing serviceability.
Conclusion
Finally, POE water filtration systems are an excellent way to protect your family from harmful contaminants.
By choosing the right system for your specific needs, you can ensure access to clean drinking water.
Keep in mind that the cost of a POE system will vary depending on the specific features and treatments that you choose.
However, an initial budget of $1500-$2000 is an excellent place to start when researching your options.
With a little bit of planning, you can ensure that your family has water as safe from contaminants as possible.