It was tough for me to get clean tap water, but my friend suggest Brita and I pick a great filter after comparing Longlast vs standard.
Maybe, you are struggling with contaminated tap water or want to improve its quality.
But choosing a suitable water filter is a hard task, I had also faced difficulty with it.
Are you in the same situation or confused? Don't worry……
Now we are going to explain both filters by giving brief details on some positive and negative aspects.
You can easily select your suitable one by comparing Brita Longlast vs Standard filter.
So Let's see all about Brita filters and their capacities.
Brita advanced Longlast vs Standard water filter
Brita Longlast replacement filter review
You don't like to use contaminated alkaline water, till you are sure about its purity or effects on your body.
Brita longlast filter can filter over 99% of contaminants found in your tap water and give you clean and tasty alkaline water for your family.
That's why we have maximum numbers of Brita water pitchers in our list of Best 10 alkaline water pitchers 2021 including longlast and standard filters.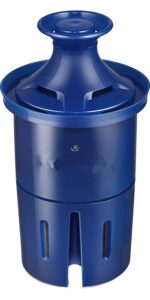 Can remove more than 13 contaminants, including Lead, Mercury.
Have you any doubt about longlast filter contaminants removing capacity?
So we make it clear that the Longlast filter can remove chlorine (taste and smell), asbestos, cadmium, benzene, and lead (up to 99%) tap water.
Chlorine often plays a role in city alkaline water systems to kill germs such as Salmonella and Nor virus.
A small quantity of chlorine does not have health effects in tap water.
Copper gets into our water through rusting pipes and affects our water quality.
You get pure and safe water for drinking, food, lemonade alkaline water with a Longlast filter for your family.
6-month Filter Life
Brita Longlast filter works as per its name and can impress you with its great performance.
Longlast filter manufactured to filter six-month-long time or 120 gallons of water whichever comes earliest.
It means you need only two filters in a year to get clean water. These replacements are affordable in bulk purchasing.
No Pre-Soak Required
Longlast filter uses fine meshes absorbents. It does not need to soak in water before using.
You can get filtered water after installing it in any Brita pitcher except the Stream model.
NSF/ANSI 53-Certified
Brita longlast filter and pitchers are NSF/ANCI certified. It shows that they are tested with strict health and sanitary standards.
Ensures customers that the products are safe and perfect for removing health-impairing contaminants.
This label is available on all Brita products and filters. You find it easily.
Affordable and easy to get
Brita has huge satisfied users in the market because it is the most affordable and easy to find.
You can get pitchers and replacements from filters lining shelves in your local shopping stores and online market suppliers.
Since Longlast is so cost-effective and easy to find water filtration options, most users like to get it.
Compatible with all Non-Stream pitchers and dispensers
Brita longlast filter made with BPA-free food-grade plastic and compatible with all Non-Stream Brita pitchers and dispensers.
However, Brita Longlast can not use for Stream pitchers—it is only compatible with Grand, Everyday, Metro, or other non Stream pitchers.
That helps to make Brita Filters the Most Effective and user-friendly product.
No black specks in the water
Black carbon particles on the tank bottom are a common thing with carbon filters.
But Brita Longlast filter manufactured with the latest technology. It filters the water without remaining any black specks.
Brita Longlast alkaline water filter Doesn't Filter Bacteria
Bacteria in water may cause several diseases and affect your health.
Brita filters work fast in maximum contaminants, but if you are searching for bacteria.
Then Brita filters can't, so you have to search for others with bacteria filtering capacity.
100% recyclable
Brita also works to make the environment clean by recycling their all products with TerraCycle.
TerraCycle is the recycling program partner to recycle waste of all Brita products.
You can send waste to recycle like Brita filters, pitchers, dispensers, bottles, etc. 
Brita provides this facility to their customer free.
You need to log in and get your coupon for the free mail service.
Brita Standard replacement filter review
Removes 4 Contaminants
This standard filter can remove most basic contaminants from your tap water.
The filter eliminates copper, chlorine (taste and smell), zinc, mercury, and cadmium from tap water.
A standard filter is not suitable for lead which is common in well water.
2-month Filter Life
Compare to the longlast filter, Brita standard filter has two months lifespan or 40 gallons filtration capacity.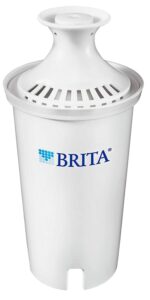 No Pre-Soak Required
Standard filters use fine meshes, absorbents and you don't need to pre-soak in water before using.
The filter starts making alkaline water after installing in any Brita pitcher except Stream models.
Compatible with all Non Stream pitchers and dispensers
Brita Standard filter manufactured with BPA-free plastic and compatible with all Non-Stream Brita pitchers and dispensers.
However, Brita Standard doesn't use for Stream pitchers—it is only compatible with Grand, Everyday, Metro, or other non Stream pitchers.
That helps to make it a cost-effective and user-friendly product in the market.
Ineffective against Bacteria or Viruses
Brita filter doesn't eliminate bacteria and viruses from the tap or well water.
Because these microorganisms do not stick on activated carbon and pass easily from top to bottom.
Discard the First 3 Pitchers (30 cups)
The standard filter starts filtering after new installing but, it does leave some carbon particles in water.
So, you should drain out the first 30 cups approx six pitchers (depending on the pitcher models).
Wash with cold water to clean carbon particles from the inside of the filter.
100% recyclable
The standard filter is 100% recyclable, you need to log in on the Brita website page and fill in your details.
You will get a coupon by email and use it during mail the product.
In this recycling program, Brita recycles all products pitchers, dispensers, bottles, filters, etc.
Then send the filter to TerraCycle by mail. It is a Brita recycling program partner and keeps your environment clean.
Brita Longlast vs Standard filter instructions
To get these detailed instructions to check – Brita filters Complete Instructions – according to filtering capacity from various topics.
A. Instructions for the first time using Brita alkaline filter pitcher.
Open the package then exit the pitcher and take off the packing.
Wash, clean, and dry the pitcher with cool water.
Rinse new filter under cool tap water for 15 seconds.
Install the filter perfectly in the reservoir.
Fill the reservoir with tap water.
Close the lid perfectly and keep it to the filtration process.
B. instructions for daily use
Before refilling you need to remove the lid carefully.
Fill the reservoir with tap water.
Put the lid back and keep it in the refrigerator to get cool water every time.
Top up tap water in the reservoir after taking water.
C. Installation instructions
Take off the lid and pull out the old filter by holding the top.
Unpack the new filter and flush it for 15 seconds under the cool running water.
Hold a new filter from the top and install it in the reservoir.
Fill tap water in the reservoir and close the lid properly.
To maintain optimal performance, change filters on its time.
Price Comparison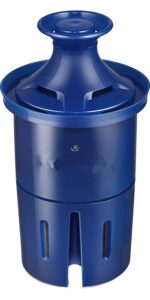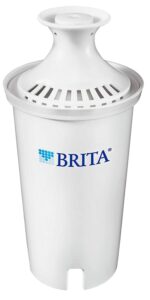 Why Brita Longlast filter slow and clog
Although we compare between Brita longlast vs standard water filter, you will get both great and affordable.
But somehow, they don't work properly and the filtration rate may be so slow.
Here we explained some possible causes for clogging the filter.
For brief detail get – 15 Reasons Why Brita Longlast Filter Slow?
Lower water quality may clog your filter faster than normal and slow the filtration.
2. Increased agitation from the tap water can affect filtration with low speed.
3. Air trapped or air bubbles trapped in the filter cause clogging.
4. Brita filters perform slowly due to the long last use of the filter or delay replacing.
| | |
| --- | --- |
| Brita Standard Filter | 2 months (every 40 gallons) |
| Brita Longlast Filter | 6 months (every 120 gallons) |
| Brita Stream Filter | 2 months (every 40 gallons) |
| Brita Bottle | 2 months (every 40 gallons) |
| Brita Faucet | 4 months (every 94 – 100 gallons) |
5. Particles or algae caught in the filter can easily clog it.
6. Decreased water pressure affects the filtration performance of the faucet filter.
7. Incorrect filter installation while changing the filter can affect filter speed.
8. There may be a possibility of damaging the filter internally due to wrong filter flushing.
As a result, the filter cannot perform well according to your expectations.
9. Clogged Valves like a dual check valve or a pressure limiting valve.
10. Some new homes and new piping could have junk and dirt in them. It can gather in the filter and clog it.
11. Faulty indicator works wrongly and increases replace time to change the filter, and the Longlast filter gets slowly clogged.
12. Rarely, filters become defective for no visible cause and give a bad performance.
13. Filtering wrong things like cold drinks, coffee, soda, etc from your filter can create mold and clog your filter very soon.
FAQ
Brita Longlast vs Standard Water Filter Which Should I Get?
Finally, it is not easy to select the better one for you from a standard or longlast filter.
It all depends on your tap water that which type of contaminant it has.
If you have a sort of common contaminants available in your tap water, then a standard filter would be reliable for you.
But with the maximum contaminants, you should go with the longlast filter.
You need to know about your tap water contaminants and select one according to it.
Why Brita Longlast filter floats?
If you drop Brita's longlast filter in a water-filled bucket and it floats, that is the sign of air trapped in the filter.
You need to dip it under the water and hit on the bottom smoothly on the sink to release air bubbles.
You can check again by dropping it on water and reinstalling it again in the pitcher for use.
Are Brita Longlast and regular Standard filter interchangeable?
Yes, Brita longlast or standard filters are interchangeable.
But they have different lifespans and capacities, Brita advanced longlast filter has 120 gallons and six months of lifespan.
And as far as the standard filter has only 40 gallons and two months of lifespan.
Which Brita filter is the best?
As compared to Pur filters, the Brita Longlast filter has fewer certifications despite this, it has six months of impressive long life.
That is three times more than other filters available in the market.
If you compare the affordability between Brita Longlast vs other regular filters even with Brita standard, then the longlast filter is the only one best customer choice.
Do Brita filters do anything?
As we showed in detail that Brita longlast / standard filters can filter maximum contaminants from water.
You can select according to your water impurity from different models.
That makes you satisfied with your family's health and creates an extra layer of protection.
Are all Brita filters the same?
Brita fit Brita filters are uniquely designed to be compatible with all Brita pitchers, even the – Small Pitcher Range for Mini Fridge.
These filters remove harmful impurities and chlorine flavors from tap water.
You get fresh, tasty water with every filling in a glass.
All Brita products are recyclable; give your contribution to making your environment clean from unwanted plastic.
Conclusion
In the end, we would like to say that maximum users are pleased with the long lifespan of the Longlast filters.
But the standard filters are more economic in bulk purchasing with less contaminant removal.
Both filters provide delicious and contaminants-free water that we expect from them.
I hope you would like our detailed information on Brita Longlast vs Standard Replacement Water Filter.
If you want to increase something in this so please write to us…..